Designers Forum: Orland Park Library Renovation Takes Holistic Approach to Improving Community Vision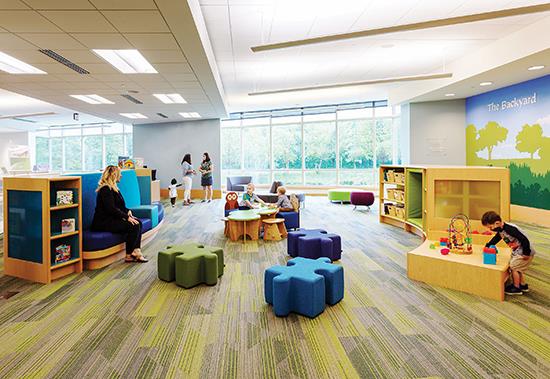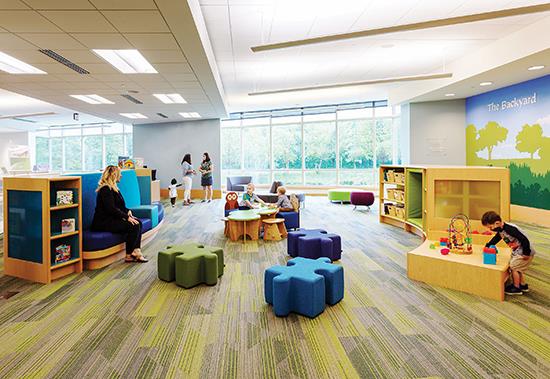 By Lisa Schmidt and Divya Jain
Orland Park Public Library in Orland Park, Ill. Set out to renew its history as a community resource by reimagining its award-winning 93,000 square foot library. Named by the Illinois Council of the American Institute of Architects as one of the 200 Great Places in Illinois, the library board and staff have understood the importance of staying vibrant for patrons. The guiding principles of the design focused on community inclusion, well-being through biophilic concepts, engaged learning environments, and diverse and multigenerational fit and flow between indoors and outdoors.
ENGAGING THE COMMUNITY
When most people think of "library" they think of books. While this is certainly true, in addition to connecting people to information, libraries connect people to people. Libraries are anchor institutions that seek to provide equitable access to people of all ages, income levels, locations, ethnicities or physical abilities. They provide a full range of resources needed to live, learn, govern and work. As designers of libraries or public spaces, one of the main goals of Wight & Company is to delicately design a multigenerational yet holistic space.
As a natural process behind our design concepts, community engagement is a critical component to the success of a project. For this project, clients shared their ideas through multiple surveys and in-person presentations. Their feedback responded to the need to improve program areas, serve diverse populations, and create distinctly different spaces for multigenerational clients. Basically, the community holds the library in high regard and was thrilled to be a part of it.
Each space in the library has been designed to create engaging and inclusive program spaces for all users. Thanks to the generosity of Darvin Furniture, the Sensory Space offers a special learning experience to the youngest. It features Interface's Driftwood carpet tile for ease of cleaning, replacement, and acoustic considerations. Linden neutral color was selected to reduce sensory stimulus.
INFLUENCE WELL-BEING WITH BIOPHILIA CONCEPTS
The library, which was built in 2004, has wide access to natural daylighting and visual connections to the outside landscape. This renovation focused on rejuvenating these features and amplifying the importance of wellness and biophilic design concepts in the updated spaces. For example, to celebrate the outdoor-indoor connection, the stairwell hallway was enhanced with a forest reserve-inspired wall graphic connecting the children's library to the new outdoor space, known as "The Backyard." ".
A selection of Interface Super Flor carpet tiles provided a durable, low-maintenance solution to aligning functional requirements with visual richness as customers transition from indoor flooring to outdoor composite wood decking.
Outside, our landscaping team has promoted well-being through the use of warm, biophilic and organic textures that harmonize with the natural environment. A mix of Trex Transcend composite wood decking in Havana Gold with a large slab from a local quarry, decomposed granite and gravel created a backyard with a healthy, nature-inspired design. Careful and deliberate considerations have been taken to maintain an environmentally friendly and sustainable solution.
WORK THROUGH SOIL SOLUTIONS
For the renovation, the design team used flooring to help fill in the gaps and make a subtle transition to various spaces using color, rhythm and texture. Each space has been given its own unique identity and visually appealing elements, while maintaining the overall look of the building.
Interface Driftwood's bold geometry in basswood, oak, pine, and palm offered an energetic fractal pattern to indicate changing directions. The color lines, with fusible dye technology, provided a neutral range of half-blends in vibrant yarns. This variety of mixtures created a perfect basic pitch mat.
Each open space is designed with a neutral color that gently transforms into a defined and user-specific space. The selection of colors and boundaries has been meticulously crafted to suit every generation. As the band "ages", the maturity of the color palette and textures develop in relation.
PLAY WITH COLOR
The use of bright and playful colors, soft curves and contrasting materials reinforced the feeling of a marked imprint in the children's area. The scale and proportion of toddlers was essential, respecting the fact that every child is different and the space needed to accommodate their growing interests and needs.
The vibrant green and yellow carpet tiles from the Interface Driftwood collection helped enhance and invigorate the early childhood area of ​​the library. The mixed nature of the carpet tile pattern lends itself to easy replacement in a high traffic area of ​​the library.
Custom-designed carpentry solutions enhanced the natural and understood flow of the path supported by the direction of the flooring, furniture and upholstery graphics.
BALANCING THE COMPANY
For young people who are no longer children but not yet adolescents, a special space has been created to meet the "in-between" needs of the pre-adolescent age group. This multifunctional space offers an area for going out, playing games, doing homework, reading, crafts and chatting.
The flooring material, the vibrant ceiling pattern, and the arrangement of the light fixtures were all pieces of the puzzle that aim to help this age group take the next step in their journey. Special attention has been paid to the color palette, with hues of greens converging on teals and blues for a calming effect.
Carpet tiles from Interface's Driftwood collection have been used to define a seating area featuring sophisticated furnishings and finishes, with Driftwood in Palm establishing a clear walkway through the space.
Improved technology and the location of the space in the floor plan generate a perception of privacy, which most tweens crave.
EMPOWER TEENS
In the Teen Loft, we wanted to create spaces that allow teenagers to make their own decisions. It is a flexible and diverse space that includes glass study rooms, high open ceilings, and exposed ductwork.
The flexibility and consistent reconfiguration of this area justified a strong vinyl flooring solution. Showcasing Interface's Woodgrain Textured Plank Collection in Silver Walnut, this space exudes a loft aesthetic and warmth while still maintaining an easily cleanable and durable solution for a high-frequented teenage activity and study space.
In addition, lighting and acoustic solutions have enhanced a sophisticated design exclusive to this space for teens to thrive.
This holistic library design solution is the result of a thoughtful and thorough design process that respected the perspective of all generations. The playful and sophisticated selections of flooring product type and patterns have honored guiding principles and supported wellness initiatives surrounding biophilic and universal design.
The value of an inclusive process and alignment with community goals really created an authentic and successful renovation project.
Copyright 2021 Floor Focus