How Fred. Olsen Cruise Lines offers the small ship experience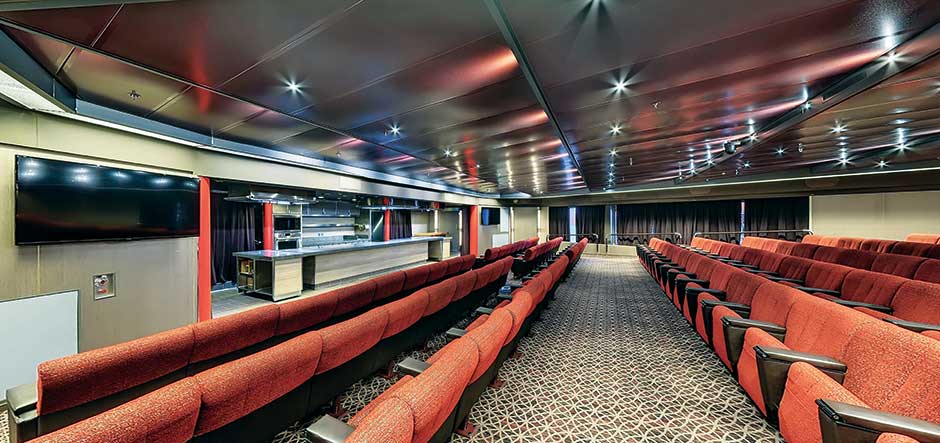 Audiotriums for cooking demonstrations are part of the new spaces aboard Bolette and Borealis
While Fred. Olsen Cruise Lines is planning a cruise resumption in July, the UK-based operator has chosen to take on an additional challenge. He bought two new ships, Bolette and Borealis, from Holland America Line as part of a plan to rebound strongly when passengers can get back to sea. Preparations are now underway for the debut of both ships to ensure that they meet the expectations of customers vis-à-vis the Fred. Olsen brand.
"We bought these vessels because they fit very well into our fleet alongside the Balmoral and the Braemar," says Peter Deer, Managing Director of Fred. Olsen Cruise Lines. "With each ship carrying less than 1,400 guests, they will allow us to continue to provide the small ship experience for which we are known. However, it was important to us that they continued to look like Fred. Olsen also ships.
Cabins play a big role in achieving this goal. "Work is well underway to renovate the cabins and guest suites to have the same stylish, home away from home feel our guests love," says Deer. "We have crews on board the ships while they are decommissioned and everyone is working hard to prepare them for a return to sail in July. We look forward to presenting them to our guests.
Company owner and president Fred Olsen Jr. took a hands-on approach to the new vessel design process.
"He's really passionate about design and has a clear vision for our latest additions to the fleet," says Deer. "Carpets and upholstery play an important role in the identity of ships, adding charm and character, and the president has been heavily involved in this process, right down to the design and weaving of our rugs. All of the artwork has also been selected by the Olsen family, and much of it comes from their own personal collections.
The renovation will introduce several new facilities to the Fred. Olsen Fleet, featuring split-level restaurants and theaters, larger spas, all-season pools with retractable roofs, and auditoriums for cooking demonstrations. The Forrest Estate Room will also be featured on board, which tells the story of the Olsen family's commercial forest development.
"Of course, each venue will have an elegant design to reflect and complement its theme, which goes back to storytelling," says Deer. "It's not enough for a place to be beautiful, it has to mean something. For example, the rugs in Bookmark cafes have coffee beans in the design – it's this attention to detail that makes all the difference. We always think about the story behind this place, and we bring it to life from there.
Borealis will debut on July 5, sailing from Liverpool, UK to destinations along the west coast of Scotland, while Bolette will sail from Dover to the Isles of Scilly and the Channel Islands on August 16. . Deer believes that guests will find the atriums of both ships as a special highlight when they board.
"Bolette and Borealis both have really beautiful atriums, with big clock towers that span multiple bridges," he says. "They are real focal points at the heart of the ships. We are very proud of the new ships and look forward to welcoming our guests back on board so that they can explore them thoroughly. "
This article first appeared in the 2021 issue of Cruise & Ferry Interiors. All information was correct at time of printing, but may have changed since.
Subscribe to Cruise & Ferry Review for FREE here to receive the next issue straight to your inbox or doorstep.
Share this story