sabine marcelis presents the new collection for natuzzi italia
THE BLOCK SOFA AND PATIO COFFEE TABLE BY SABINE MARCELIS FOR NATUZZI ITALIA
following the success of the first edition of the circle of harmony, natuzzi italy continues to develop its design ecosystem, displaying a tribute to beauty and inclusiveness. double the circle of harmony – living the transition, the new collection presents different interpretations of the design of the brand's DNA made in italy by eight different designers.
during the london design festival 2021 – september 18-26 – the natuzzi store in tottenham court road will present the latest collection from sabine marcelis.
in a changing world, PJ Natuzzi, creative director of natuzzi italia (read our interview here) called on a designer based in Rotterdam sabine marcelis creating flexible furniture capable of going beyond the limits of the interior space of the house from a multifunctional point of view – all under the pillars of natuzzi comfort.
for the second year in a row, pj natuzzi invited designboom to discover what the circle of harmony is, and how he believes that forging relationships, creating new friendships and sharing both passion and love for them. projects result in honest and relevant products. while in Puglia we sat down with marcelis who walked us through the design process behind her products and commented on how she came up against a piece she had never made before – a sofa.
BRINGING YOUR HIGHLY EXPERIMENTAL IMAGINATION TO THE CIRCLE OF HARMONY
sabine marcelis is known for her stylish, forward-looking pieces that take us to shiny and somewhat futuristic places. for his collaboration with natuzzi, she brings her highly experimental imagination to circle of harmony, where art, design and architecture come together in a constant search for potential shapes and materials. in the idea of ​​making our objects evolve with us over time, marcelis presents the sofa block and the terrace coffee table, two pieces of furniture that express the renowned comfort and aesthetics of natuzzi with the material intention of marcelis.
"In the new domestic space, liquid and constantly evolving, objects must also evolve, offer us more functions and follow us everywhere," said sabine marcelis.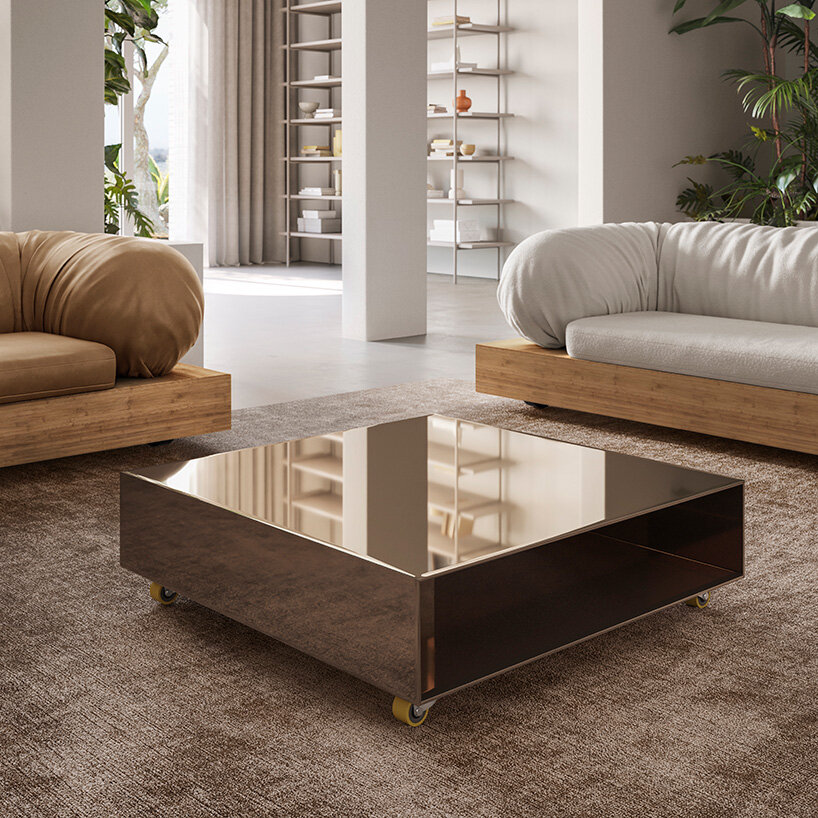 A PERFECT SYNTHESIS BETWEEN MARCELIS'S VISION AND NATUZZI'S IDENTITY
with the block sofa, marcelis explores the idea of ​​a soft shape combined with a monolithic base. available in three-seater sofa, armchair and ottoman versions, the collection has been mounted on casters, allowing it to be easily moved around the house, adding to its fluid nature. like all of marcelis' work, the project stands out for its innovation: the exploration of materials, the study of geometries and the attention paid to the relationship to light give rise to an experience that amazes, from its original visual effect to its surprising dynamism.
the terrace coffee table seems to be closer to the world of marcelis, where pure geometries characterize its essential and refined aesthetic. its lightness is underlined by the bronzed glass with which the structure is made and the unique wheels that define the base: a versatile complement, ideal for fluid and dynamic spaces that do not renounce the refinement of design as an essential element for quality of life .
overall, the collaboration with marcelis represents a perfect synthesis between the designer's vision and the identity of natuzzi.
read our interview with the designer below.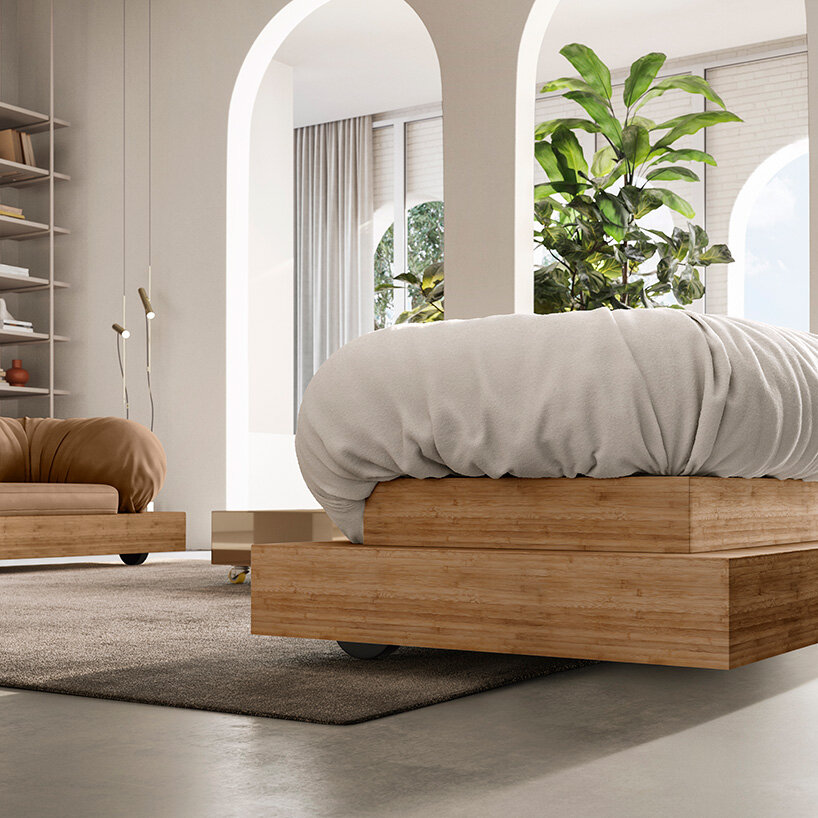 INTERVIEW WITH SABINE MARCELIS
DESIGNBOOM (DB): How did you first meet PJ Natuzzi and how did you approach this collaboration?
SABINE MARCELIS (SM): I was introduced to PJ by a mutual friend and collaborator, borre akkersdijk. he also worked with natuzzi (see byborre's collaboration with natuzzi on designboom here) and I also did a few projects with him. he suggested that we should meet, while hinting that we should work together. I'm not really an obvious choice for Natuzzi. in fact, I think our worlds are quite different. we each have a very strong identity and design aesthetic. but somehow I think that was really not only the challenge here, but also the fun part – how these two worlds come together and create something that is true and consistent for each individual world.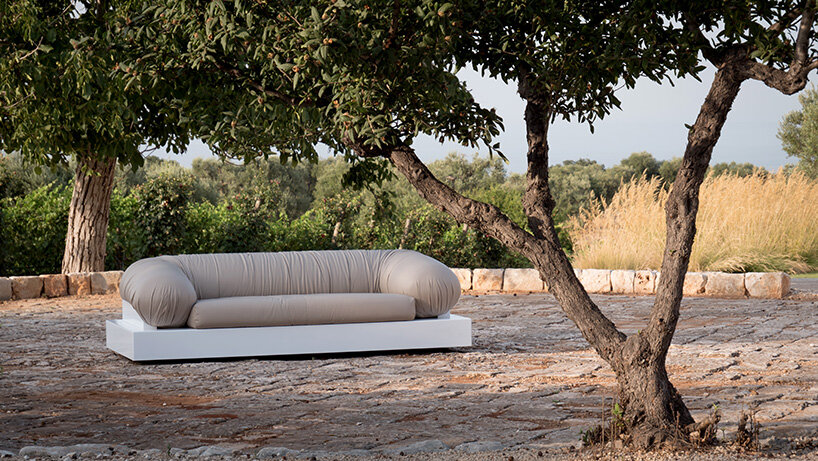 image by designboom
DB: your sofa is called block, can you explain this project to us?
SM: it is completely outside my field to work with soft materials, and comfort. I mainly work with hard materials like glass and cast resins. I like to play with these materials in combination with light, something that was difficult to tackle in this project. but materials are at the heart of my practice, and I have always wanted to make this visible and palpable.